Minisleepers
We produce minisleepers in 120 and 140 mm diameter and in lengths of 1800-2400 mm
| | |
| --- | --- |
| Material | Pine |
| Impregnation | Vacuum-pressure impregnation with environmentally friendly impregnating agent |
| Treatment class | HC4 |
| Impregnated color | Green or brown |
| Use | Outdoors, in contact with the ground |
i
All sawing, drilling and cutting should be done before impregnation. If this not possible, non-impregnated surfcases should be brushed with a wood preservative.
For impregnated wood, we recommend to use hot-dip galvanized (corrosion class C4) or stainless steel (class A2) fasteners.
Impregnated wood can be stained or painted, but before painting it must be sufficiently dry - moisture content not to exceed 20%. Oil paints, alkyd paints as well as wood stains and oils are compatible.
Product range offered
| Product code | Diam, mm | Length, mm | Finishing | Wood type | Pack, pcs | Pack weight, kg | Pack dimensions, mm |
| --- | --- | --- | --- | --- | --- | --- | --- |
| ML1201800RW00 | 120 (100) | 1800 | 00 | Pine | 56 | ~900 | 1150x1150xlength |
| ML1202100RW00 | 120 (100) | 2100 | 00 | Pine | 56 | ~1000 | 1150x1150xlength |
| ML1202400RW00 | 120 (100) | 2400 | 00 | Pine | 56 | ~1100 | 1150x1150xlength |
| ML1401800RW00 | 140 (120) | 1800 | 00 | Pine | 42 | ~900 | 1150x1150xlength |
| ML1402100RW00 | 140 (120) | 2100 | 00 | Pine | 42 | ~1000 | 1150x1150xlength |
| ML1402400RW00 | 140 (120) | 2400 | 00 | Pine | 42 | ~1100 | 1150x1150xlength |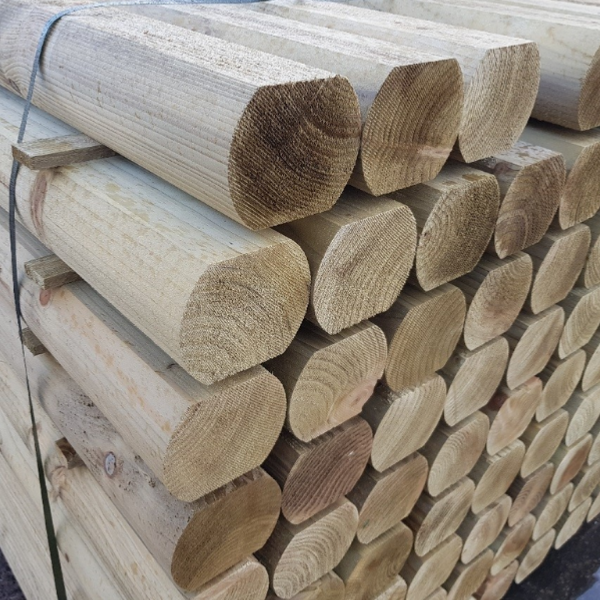 For more information, please send us an enquiry
ENQUIRY